Debugging Exercise 3
Goal:
debug the Functions.java code.

Use the step over ↷ button. See the Important Tips section for more information.
Setup
---
From Java Bootcamp Resources -> Module 2 -> 8. Exception Handling -> Debugging Workbooks open the folder, exercise-three.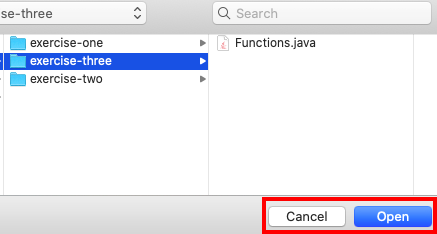 If you can't find it, please download the updated resources from Github.
Debugging
---
The file contains TWO functions:
The first function should return a random number between 1 and 15.

The second function should check if that number is prime or composite.

A prime number is not divisible by anything except itself and one (17, 29, 41...).

Common mistake: 1 is not a prime number.
If you run the starter code, it will crash.
Exception in thread "main" java.lang.ArithmeticException: / by zero
    at Functions.isPrime(Functions.java:15)
    at Functions.main(Functions.java:5)
Use breakpoints to visualize the runtime and debug the program line by line. Recall, you can use the step into ↓ button to step into a function.
Important Tips
---
Problem: isPrime() is called inside println(). So, how do you step inside isPrime()?

Solution: step into ↓ println(). Then, step out ↑ of it. The next step into ↓ will step inside isPrime().

Problem: When inside a method, how do you avoid stepping into other methods?

Solution: Use step over ↷ to execute the method without stepping in it.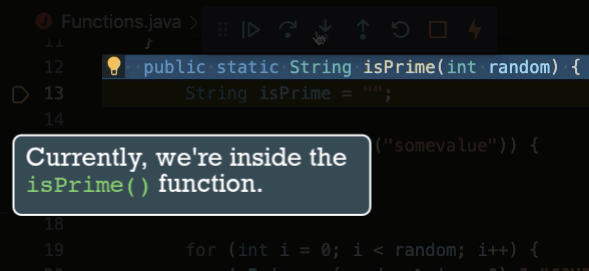 Good Luck!
---
Feedback Summary
Written Reviews
There are no written reviews yet.